A Celebration of Love and 7 years of Co-Creation! Our August Called By Love Institute Worldwide Call with Dr. Marj Britt, Fabienne Meuleman & Friends
From

10:00 am

to 11:30 am
---
2020-08-12 10:00
2020-08-12 11:30
America/Los_Angeles
A Celebration of Love and 7 years of Co-Creation! Our August Called By Love Institute Worldwide Call with Dr. Marj Britt, Fabienne Meuleman & Friends
Save the date: YOU ARE INVITED! Our August event will take place on Wednesday August 12th 2020 at 10am Pacific Time. You are welcomed to join us from anywhere in the world from the comfort of your home.  A Celebration of Love and 7 years of Co-Creation with Marj Britt, Fabienne Meuleman & Friends For the second time, we will host our monthly call on the zoom platform, so that we can use the video functionalities. Seven years ago on that day, Fabienne moved to Tustin with the intention to support Called by Love Institute for at least 3 months… 😉 Obviously a lot more happened throughout the years! The zoom gathering on August 12th will be a celebration of the co-creation of the last seven years, and we welcome each and every one of you, who is / has been and/or is considering being part of Called by Love in the future to join us that day. In order to receive the details, make sure to be signed up to receive the Called by Love Institute emails => http://calledbyloveinstitute.com/sign-up We will send you the zoom information to log in prior to the call by email! RSVP on FACEBOOK:  https://www.facebook.com/events/328663108265689 Blessings & Love! While there is no charge to join us on our monthly gatherings, Called By Love Institute (CBLI) welcomes Tax Deductible Donations to help cover the costs related to Called By Love Institute:  Link to Paypal Love offering or send by check, address available at: http://calledbyloveinstitute.com/love_donation  (Time Converter: https://www.timeanddate.com/worldclock/converter.html?iso=20200812T170000&p1=137&p2=48&p3=165&p4=259&p5=179&p6=80 ) Make sure to add your email to receive the invitation and details to log in closer to the date of the call http://calledbyloveinstitute.com/sign-up Comments
fabienne@calledbyloveinstitute.com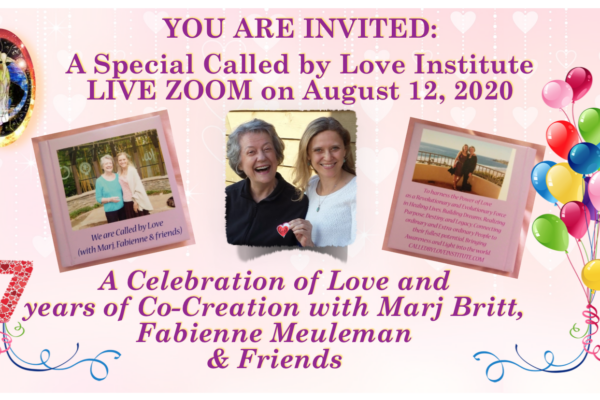 Save the date: YOU ARE INVITED!
Our August event will take place on Wednesday August 12th 2020 at 10am Pacific Time. You are welcomed to join us from anywhere in the world from the comfort of your home. 
A Celebration of Love and 7 years of Co-Creation
with Marj Britt, Fabienne Meuleman & Friends
For the second time, we will host our monthly call on the zoom platform, so that we can use the video functionalities.
Seven years ago on that day, Fabienne moved to Tustin with the intention to support Called by Love Institute for at least 3 months… 😉 Obviously a lot more happened throughout the years!
The zoom gathering on August 12th will be a celebration of the co-creation of the last seven years, and we welcome each and every one of you, who is / has been and/or is considering being part of Called by Love in the future to join us that day.
In order to receive the details, make sure to be signed up to receive the Called by Love Institute emails => http://calledbyloveinstitute.com/sign-up
We will send you the zoom information to log in prior to the call by email!
RSVP on FACEBOOK:  https://www.facebook.com/events/328663108265689
Blessings & Love!
While there is no charge to join us on our monthly gatherings, Called By Love Institute (CBLI) welcomes Tax Deductible Donations to help cover the costs related to Called By Love Institute:  Link to Paypal Love offering or send by check, address available at: http://calledbyloveinstitute.com/love_donation 
(Time Converter: https://www.timeanddate.com/worldclock/converter.html?iso=20200812T170000&p1=137&p2=48&p3=165&p4=259&p5=179&p6=80 )
Make sure to add your email to receive the invitation and details to log in closer to the date of the call http://calledbyloveinstitute.com/sign-up
Comments