INVITE SPIRIT TO SHOW YOU THE WAY IN 2019 with DR. MARJ BRITT
From

1:00 pm

to 3:00 pm
---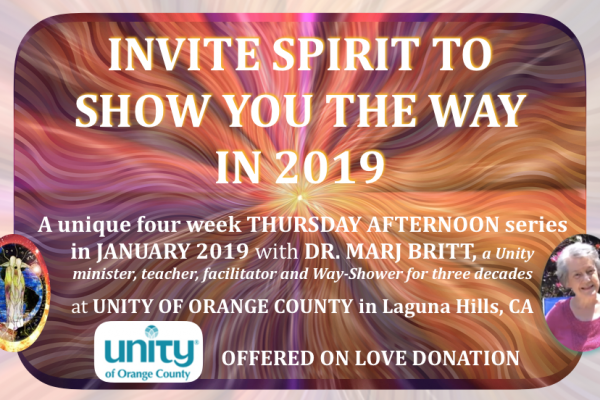 INVITE SPIRIT TO SHOW YOU THE WAY IN 2019
A unique four week THURSDAY AFTERNOON series 
in JANUARY 2019 with DR. MARJ BRITT, a Unity 
minister, teacher, facilitator and Way-Shower for three decades, at UNITY OF ORANGE COUNTY in Laguna Hills, CA 
We are trying a HOLY EXPERIMENT!  
AN AFTERNOON CLASS…  WILL YOU COME???
THURSDAY AFTERNOONS,  1pm to 3pm, JANUARY 10, 17, 24, 31!
Join for the full series, or one, two or three Thursdays
OFFERED ON LOVE DONATION
https://invitespirit2showyoutheway.eventbrite.com
Have you felt CALLED in some 'strange way'
and yet not sure what it means?
Have you yearned for a SUPPORT GROUP, even a MENTORING
setting that could help you find the way?
Did you know that UNITY'S FOUNDATIONAL FRAMEWORKS OF
THE SEVEN STAGES OF CO-CREATION
And THE TWELVE POWERS
are about that Map of Destiny in your life?
Find your STEP BY STEP plan that reveals
the MYSTERY OF 'THE WAY' that you have been seeking…
---
JAN 10,  1-3pm
LET THERE BE LIGHT … and the Void and Darkness that comes before it
RADICAL FAITH in your UNIQUE GIFTS OF GENIUS, Imprints of your Soul
---
JAN 17,  1-3pm
DIVINE IMAGINATION, downloads, listening to the whispers;
Timelessness moving into time, Divine Will and WILLINGNESS
---
JAN 24,  1-3pm
ACTION & MANIFESTATION, mountaintops and marketplaces; 
Mountaintops of Another Kind 
DISCERNMENT…  CHOICE OR NO CHOICE???
---
JAN 31,  1-3pm
MYSTICAL LOVE & WISDOM in the FOUR ACTS OF YOUR LIFE
REALIZATION & RETURN,
Love in the Mystery, a Vaster Vision
---

THURSDAY AFTERNOONS,  1pm to 3pm, JANUARY 10, 17, 24, 31!
AT UNITY OF ORANGE COUNTY
23181 Verdugo Drive, in Laguna Hills, CA
https://invitespirit2showyoutheway.eventbrite.com
---
Dr. Marj Britt is a Mystic in the world, with Love as the Center of her life.  
She has guided many in finding purpose, passion & destiny in five decades of public education and Unity ministry. Her EdD combines curriculum, psychological education and counseling. A Unity minister, teacher, facilitator and Way-Shower for three decades, First at Unity of Walnut Creek, CA and last at Unity of Tustin (1993-2011).
She is the founder of Called By Love Institute, a non-profit 501(c)3 calledbyloveinstitute.com
and the author of Your Soul's Invisible Codes, Unveiling Your Sacred Love Story.
Comments