Love as Never Before: A Unique, Groundbreaking, Experiential Event With Terri O'Fallon PhD, Kim Barta MA and Marj Britt EdD on February 11-14, 2019 – REGISTER NOW for the Early Bird
From

9:00 am

to 12:00 pm
---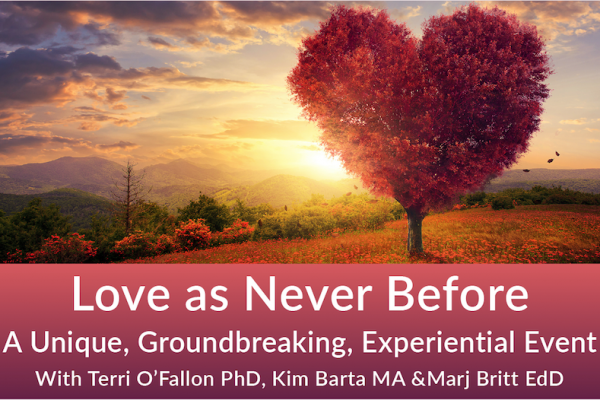 We are really excited to announce a unique in-person workshop that Called By Love Institute is co-hosting in February:
Love as Never Before
A Unique, Groundbreaking, Experiential Event
With Terri O'Fallon PhD, Kim Barta MA and Marj Britt EdD
February 11-14, 2019 (Valentines week)
Visit the registration page to view all the details.

This will follow the "Love as Never Before, The Glimpses" (Pre-Workshop Event) taking place on Sunday, February 10th, 2019. Indeed, Terri O'Fallon, Kim Barta and Marj Britt will indeed be the guest speakers during the Sunday morning service at Unity of Orange County at 10 am and hosting an afternoon OVERVIEW workshop that day from 1 to 4 pm.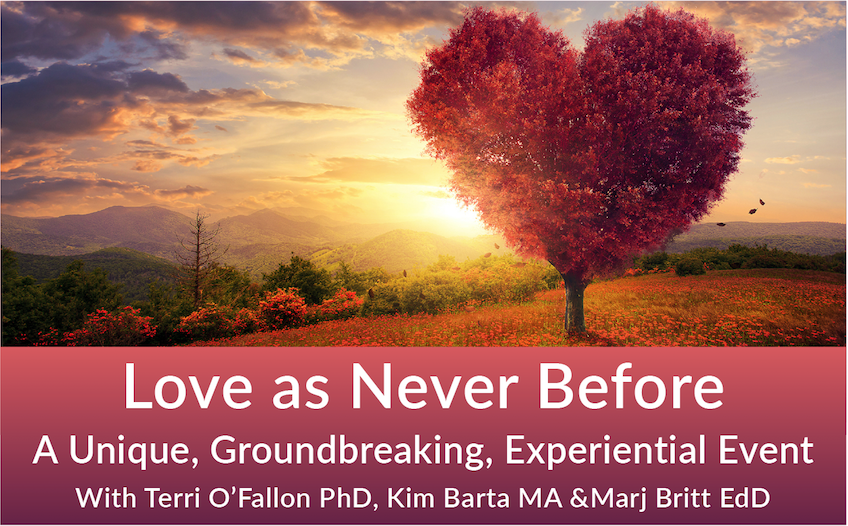 We are delighted to announce the UNIQUE IN-PERSON LIVE WORKSHOP that Called By Love Institute is co-hosting with Stages International in February, 2019.
LOVE AS NEVER BEFORE
With Terri O'FallonPhD, Kim Barta MA and Marj Britt EdD
in Orange County, California
during Valentine's week in February 2019
http://loveasneverbefore.com
It is a huge honor for Marj to be co-leading, planning and teaching with Terri O'Fallon, the founder of the Stages Inventory, and Kim Barta, her brother and co-founder of Stages International.
LOVE AS NEVER BEFORE will explore Love in ways that you've never experienced it before. This is human love and Soul Love, both/and. It will open into a Quantum Leap in how you understand Love in your life.
You will recognize REPEATING PATTERNS, the DRIVERS, and the SHADOW CRASHES. You will see the Trinity of Three tiers, including the 12 realms of receptive and active energy.
You will realize how your life TRANSCENDS and INCLUDES naturally. This will include the physical dimensions, the thinking and feeling subtle dimensions, with glimpses into the still rare, yet ALWAYS ALREADY realms of the MetAware.
These glimpses could change your life! It is an invitation to include all of the parts, pieces and people in your life, to see how it all fits in your Love puzzle of destiny, passion and purpose. Love brings so many of the 'pieces' of our life meaning together.
Please visit the workshop registration page at Love As Never Before
to view the details:
What you will learn:
* A "roadmap" of how love develops in your life
* An understating of your current location on the love map
* Ideas for developing your love at each place on the map in depth, breadth and height.
* How you can unfold the higher stage of love that is next for you
* To love as you never have before!
Please visit the workshop registration page http://loveasneverbefore.com to view the detailed workshop program and for information about travel and accommodations.
Be sure to register for the workshop by January 28 and save $100 with the EARLY BIRD price. There is also 15% senior discount. You will also notice that partial SCHOLARSHIPS will be available as we want to ensure everyone who wish to be present can be a part of it.
We invite you to participate in this unique workshop from February 11-14 where we will explore and learn about how love grows up.
Before the workshop, Terri, Kim and I will be the guest speakers for the 10 am morning service on Sunday February 10th at Unity of Orange County in Laguna Hills. We will also host an "overview" workshop that afternoon.
Terri O'Fallon's work and research goes beyond any of the work Marj has studied for so many years, especially as the research relates to the late and still rare stages of development. It has been, for her, the cutting edge coming into clarity, vision revealing itself, opening me into next steps. It has been unknowing moving into clear seeing, even while still in the Invisible. She really wants to share this break-through awareness with you.
If you missed our December 5th Called By Love Institute Call, make sure to listen to the recording to learn more about why Marj is so excited about it. You can find the link to the recording here: http://calledbyloveinstitute.com/love-as-never-before-and-recordingdec5
We are looking forward to sharing this special and unique time together!
——————————
ALL INFORMATION AVAILABLE AT:
http://loveasneverbefore.com
THANK YOU for registering early and letting us know if you are planning to attend!
RSVP and Share with your friends on Facebook at: https://www.facebook.com/events/2139641946302553
Comments