Screening of the movie "The Twelve Powers" hosted at Unity of Tustin with Director James Twyman, Dr. Marj Britt and Rev. Carolyne Mathlin
From

7:00 pm

to 9:00 pm
---
2017-01-20 19:00
2017-01-20 21:00
America/Los_Angeles
Screening of the movie "The Twelve Powers" hosted at Unity of Tustin with Director James Twyman, Dr. Marj Britt and Rev. Carolyne Mathlin
On January 20th, NY Times bestselling author James Twyman will be with us at Unity of Tustin to introduce his new feature documentary called The Twelve Powers (a Sound Called Unity).  The Twelve Powers documentary is based on Charles Fillmore's classic book and features wisdom from over forty ministers, including Unity of Tustin's very own Rev. Carolyne Mathlin and Dr. Marj Britt, founder of Called by Love Institute. The movie also follows James Twyman and a group of Jewish rabbis, Muslim imans and Christian ministers as they travel to a hill overlooking a Syrian village held by ISIS. Millions of people participated in a worldwide synchronized meditation that day as prayers were shared from the three religions, as well as from The Twelve Powers. Save the date to join us in person with James Twyman on Friday January 20 at 7:00pm in the sanctuary at Unity of Tustin, 14402 S. Prospect Ave., Tustin CA 92780 $10 Tickets available at the Timeless Wisdom Books & Gifts (Unity of Tustin) and online at  http://www.unitytustin.org/event/movie-night-twelve-powers RSVP and Share on facebook: https://www.facebook.com/events/1026345477470142 Watch the Twelve Power Movie Trailer https://vimeo.com/180241648 (More information http://www.soundcalledunity.com ) NOTE: If you are not yet on our email list, make sure to SIGN-UP at http://calledbyloveinstitute.com/sign-up to receive further updates from Called by Love Institute ~ Living, Loving, Legacy with Dr Marj Britt Comments
14402 Prospect Ave, Tustin, CA 92780, USA
fabienne@calledbyloveinstitute.com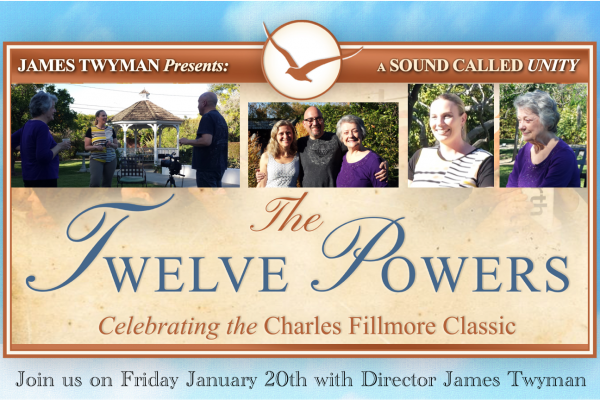 On January 20th, NY Times bestselling author James Twyman will be with us at Unity of Tustin to introduce his new feature documentary called The Twelve Powers (a Sound Called Unity). 
The Twelve Powers documentary is based on Charles Fillmore's classic book and features wisdom from over forty ministers, including Unity of Tustin's very own Rev. Carolyne Mathlin and Dr. Marj Britt, founder of Called by Love Institute.
The movie also follows James Twyman and a group of Jewish rabbis, Muslim imans and Christian ministers as they travel to a hill overlooking a Syrian village held by ISIS. Millions of people participated in a worldwide synchronized meditation that day as prayers were shared from the three religions, as well as from The Twelve Powers.
Save the date to join us in person with James Twyman on Friday January 20 at 7:00pm in the sanctuary at Unity of Tustin, 14402 S. Prospect Ave., Tustin CA 92780
$10
Tickets available at the Timeless Wisdom Books & Gifts (Unity of Tustin) and online at  http://www.unitytustin.org/event/movie-night-twelve-powers
RSVP and Share on facebook: https://www.facebook.com/events/1026345477470142
Watch the Twelve Power Movie Trailer https://vimeo.com/180241648
(More information http://www.soundcalledunity.com )
NOTE: If you are not yet on our email list, make sure to SIGN-UP at http://calledbyloveinstitute.com/sign-up to receive further updates from Called by Love Institute ~ Living, Loving, Legacy with Dr Marj Britt
Comments