100 DAYS OF PRAYER: An Invitation to Commit to 100 Days of Prayer with Dr. Marj Britt
From

1:00 pm

to 2:30 pm
---
2021-05-04 13:00
2021-05-04 14:30
America/Los_Angeles
100 DAYS OF PRAYER: An Invitation to Commit to 100 Days of Prayer with Dr. Marj Britt
The information and registration details for the online course, '100 Days of Prayer' that Unity of Tustin has invited Marj to teach is AVAILABLE!!! 🙂 READ THE LAST EMAIL WITH ALL INFORMATION, SCHEDULE AND REGISTRATION LINKS at:  https://mailchi.mp/calledbyloveinstitute/100daysofprayer  (also available below) Or go straight to the REGISTRATION PAGES: 100 DAYS OF PRAYER with Dr. Marj Britt – Registration for all 16 weeks 100 DAYS OF PRAYER with Dr. Marj Britt – Registration for single session(s) Also, make sure to be on our email list (http://calledbyloveinstitute.com/sign-up) to receive further updates and messages from Marj and Called By Love Institute! ===================================================== 100 DAYS OF PRAYER An Invitation to Commit to 100 Days of Prayer with Dr. Marj Britt starting on Thursday January 21, 2021 at 1 pm PST "Prayer is the medium of miracles. It is a means of communication of the created with the Creator. Through prayer love is received, and through miracles love is expressed." A Course in Miracles As promised, here is the information and registration details for the online course, '100 Days of Prayer' that Unity of Tustin has invited Marj to teach. In case you missed it, this is what Marj had written about it: "When I came to Unity of Tustin as a 'temporary minister' in 1993, several months later the board treasurer asked me what it would take for me to stay as the minister.  I told him I needed three days to pray about it and to call me back then.  He did.  In those three days, I had gotten very clear guidance.  I asked him if he had a pen to write down the twelve items. The first one was Prayer is the Foundation.  Prayer is a medium of Miracles, identified in the first chapter of A Course in Miracles.  It is the means of communication of the created with the Creator.  Through prayer love is received, and through miracles love is expressed. '100 Days of Prayer' will be about this kind of invitation, an invitation to the manifestation of Miracles.  It happens in Collaboration with the Holy Spirit.  You will be invited to find your own understanding of what that means.  There will be weekly calls that I will lead, there will be teaching, guidance and collaboration.  The invitation to 100 Days of Prayer will, however, be up to every participant to fulfill.  You will decide what that means to you.  Prayer as a foundation and manifestation are deeply interconnected at the levels of the heart and the soul." The full description, and the topics for each week, are listed below. You have the choice to commit to join for the full 100 Days, or join Marj by registering for single sessions. 100 DAYS OF PRAYER with Dr. Marj Britt – Registration for all 16 weeks 100 DAYS OF PRAYER with Dr. Marj Britt – Registration for single session(s) 100 DAYS OF PRAYER Description and Registration Details: Join Dr. Marj Britt for 16 online Zoom gatherings starting on Thursday January 21, 2021 at 1 pm PST and continuing through the 100 Day time frame (with a final celebration and commitment closing session on May 6, 2021).  Each Zoom session will have a different theme with Deep Dives into Meaning and Purpose; Applying […]
fabienne@calledbyloveinstitute.com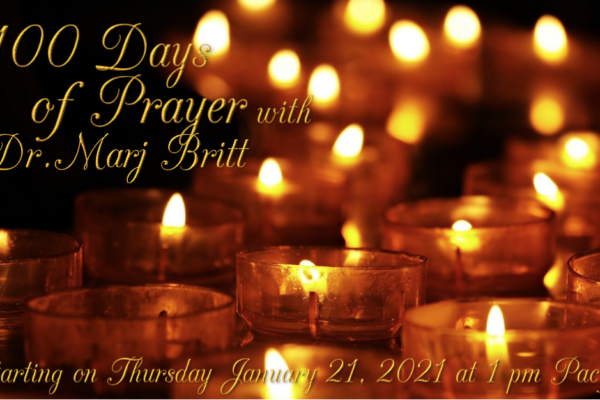 The information and registration details for the online course, '100 Days of Prayer' that Unity of Tustin has invited Marj to teach is AVAILABLE!!! 🙂
READ THE LAST EMAIL WITH ALL INFORMATION, SCHEDULE AND REGISTRATION LINKS at: 
https://mailchi.mp/calledbyloveinstitute/100daysofprayer  (also available below)
Or go straight to the REGISTRATION PAGES:
Also, make sure to be on our email list (http://calledbyloveinstitute.com/sign-up)
to receive further updates and messages from Marj and Called By Love Institute!
=====================================================
100 DAYS OF PRAYER
An Invitation to Commit to 100 Days of Prayer with Dr. Marj Britt
starting on Thursday January 21, 2021 at 1 pm PST
"Prayer is the medium of miracles.
It is a means of communication of the created with the Creator.
Through prayer love is received, and through miracles love is expressed."
A Course in Miracles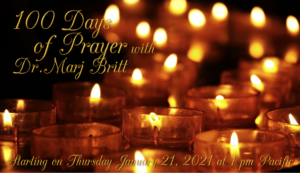 As promised, here is the information and registration details for the online course, '100 Days of Prayer' that Unity of Tustin has invited Marj to teach. In case you missed it, this is what Marj had written about it:
"When I came to Unity of Tustin as a 'temporary minister' in 1993, several months later the board treasurer asked me what it would take for me to stay as the minister.  I told him I needed three days to pray about it and to call me back then.  He did.  In those three days, I had gotten very clear guidance.  I asked him if he had a pen to write down the twelve items.
The first one was Prayer is the Foundation.  Prayer is a medium of Miracles, identified in the first chapter of A Course in Miracles.  It is the means of communication of the created with the Creator.  Through prayer love is received, and through miracles love is expressed.
'100 Days of Prayer' will be about this kind of invitation, an invitation to the manifestation of Miracles.  It happens in Collaboration with the Holy Spirit.  You will be invited to find your own understanding of what that means.  There will be weekly calls that I will lead, there will be teaching, guidance and collaboration.  The invitation to 100 Days of Prayer will, however, be up to every participant to fulfill.  You will decide what that means to you.  Prayer as a foundation and manifestation are deeply interconnected at the levels of the heart and the soul."
The full description, and the topics for each week, are listed below. You have the choice to commit to join for the full 100 Days, or join Marj by registering for single sessions.
100 DAYS OF PRAYER
Description and Registration Details:
Join Dr. Marj Britt for 16 online Zoom gatherings starting on Thursday January 21, 2021 at 1 pm PST and continuing through the 100 Day time frame (with a final celebration and commitment closing session on May 6, 2021). 
Each Zoom session will have a different theme with Deep Dives into Meaning and Purpose; Applying all that you have learned, can and will learn in your life. Proven PRACTICES AND TOOLS will be offered, you will choose if and how to apply them.
Marj's deepest heart's desire is that this prayer process be highly participatory, with time in the Silence, prayer and sharing as the 100 days unfolds. It is knowing that Prayer is a Medium of Miracles and the value of learning is greater when we share what we learn.
In the beautiful experience of getting together for 100 DAYS OF PRAYER, Spirit will take and bring leadership. It is about You, saying 'Yes' to a focused acceleration of that expansion of consciousness that is, right now, taking place.
What can you expect if you commit to the 100 Days of Prayer with Marj?
Opening into Miracles of manifestation and meaning that reveals the Good, the True and the Beautiful in all of the years of your life: past, present and future.
Being an Instrument of Seeding Love, Peace and Joy in your life, community and the world
Experiencing how Living Your Vision in your Heart, Mind, Soul and Being brings you Peace, Love, Joy, Awareness of Inner Knowing, Co-Creation, Manifestation and Miracles
Seeing yourself and the participants who join the calls become living embodied experiences of prayer as co-creation.  No one will know what that means even, the curriculum for that will be given to those who make the commitment, who say 'yes' to that, who come together knowing, 'Where two or three are gathered in My name, there I Am in the midst.'  (Words of Jesus).
Knowing what it will mean to watch and experience that consistent, committed expansion of spiritual energy that happens through that kind of commitment, that kind of regular connection with that conscious connection with this Divine Presence.
Knowing that It doesn't come from the human mind; the human mind will support it.  The human mind will take instruction, guidance, from the downloads coming from Holy Spirit.  And, what we have to do is listen as that takes place.  Know that you will be guided in action.
Knowing the feeling of compassion.  Open into a deep heart feeling, a powerful, powerful feeling of love.  Compassion is a part of love.  It is part of conscious transformation.  It's transformation for the individual, it is the transformation taking place in our world right now.
Experiencing something very beautiful happening.  By committing to 100 DAYS OF PRAYER, you make a conscious choice to say, "Okay, I am really going to shift my attention to the Divine, I'm going to let Spirit guide me in and help me be an instrument."
Seeing This and realizing that kind of prayer experience leads to a greater direction of spiritual energy that is unfolding.  Look at the heart and our knowledge of the heart, realize the heart is the instrument of transformation.  Focus on your heart, enter into a feeling, a deep feeling that is a part of love, see your body transform in This Transformation.  Open to the influx of spiritual energy, the expansion of spiritual awareness in your being.  Experience what causes the shift to a higher perception.



SCHEDULE of the 16 Zoom online sessions:



1. 
In the Beginning…   
(Start of the 100 Days of Prayer:  Thursday, January 21, 2021)
2. 
Getting to Know You:
 How honoring, listening, asking and opening our hearts sets the Field  
(Thursday, January 28, 2021)
3. What is Your Deepest Heart's Desire?  How listening to your heart leads and guides (Thursday, February 4, 2021)
4. Surrender to the direction of the Holy Spirit:  What does it mean?
(Thursday, February 11, 2021)
5. What is your Foundation? (Thursday, February 18, 2021)
6. Partnering with the Beloved (Thursday, February 25, 2021)
7. Living a God-centered life (Thursday, March 4, 2021)
8. Being an instrument for the expression of God (Thursday, March 11, 2021)
9. Deep Dives into Meaning and Purpose (Thursday, March 18, 2021)
10. Beauty:  How is this related to Seeing with the Eyes of Love?  Can we see it with other senses?  (Thursday, March 25, 2021)
11. Honoring:  How do we honor our differences and celebrate our Oneness?            (Thursday, April 1, 2021)
12. Integrity with the highest Spiritual values that can be consciously discerned, living that knowing (Thursday, April 8, 2021)
13. Opening into Miracles of Manifestation and Meaning  (Thursday, April 15, 2021)
14. Selfless Service as an Act of Devotion to God, experiencing the Beloved serving the Beloved (Thursday, April 22, 2021)
15. Gentleness and Grace, knowing the Way of the Water: Strength in the Flow        (Thursday, April 29, 2021)
16. After the completion of the 100 Days of Prayer:  The Covenant of Giving and Receiving, the Mirror of Seeding Love, Peace and Joy (This closing session will be on Thursday, May 6, 2021)
REGISTRATION & Scholarships


There are 2 options to register:

 
Commit and register for the entire Prayer Process of learning, sharing, receiving and manifesting:  $100 for the full 16 Zoom sessions: 
Click HERE to REGISTER for all 16 SESSIONSIf you would like to be considered for a scholarship, please email maryjeanne@unitytustin.org.

or

Register per single session ($10/session):
Click HERE to REGISTER for single session(s)



What if you would like to participate yet can't attend the live sessions?
A recording will be provided after each session that you have registered for, which will allow you to watch it later. You will have access for a minimum of a week to watch it. Participants registered for the full 16-week process will keep access to the recordings of Marj's teachings from all the sessions after our prayer process completes.

About Dr. Marj Britt:

Dr. Marj Britt was a visionary leader of Unity of Tustin, California, for 19 years and still serves as Minister Emeritus. Widely known for its beautiful Meditation Gardens and as a Campus of Consciousness, Unity of Tustin hosted during her tenure as Senior Minister some of the foremost Master Teachers of today.  In September 2011, Marj founded Called By Love Institute, a world-wide-web based platform that guides people in recognizing the Faces of Love in their life, past, present and future, all in the Now, as One.
Marj's commitment is to be a Spiritual Guide centered in the Mystery of Love as Creation, in all of the stages and states of one's life. It invites you to identify your Soul Journey and the Center of Gravity shifts in your life, and to Know what is 'Always Already'.
Your personal map of creation is the Revelation of your own cosmic and human love story. It is your Spiritual Autobiography of Love in all of its wonderful and sometimes strange forms, even those we don't understand.
Marj holds a doctoral degree from the University of Massachusetts School of Education with a focus in curriculum, psychological education and counseling. For her dissertation, 'Life Patterns of High Success', the School of Business was represented on her dissertation committee as an 'outside member'. She attended seminary at Unity School of Christianity and was ordained in 1988. She has served on the Unity Institute seminary board, the Academic Governance Council, as well as in other national leadership roles.
Marj is a mystic in the world, a master teacher, with consciousness and Love as the living flame of her life.
Suggested Resources:
Creating a 100 Day Prayer Notebook is highly recommended
Book: 'Intimate Conversations with the Divine, Prayer, Guidance and Grace', by Caroline Myss (Example of how themes can be applied to your life. However, it will not be a book we study together during the 100 Days of Prayer)
UNITY OF TUSTIN Daily Word calls lead by Unity of Tustin chaplains: https://www.facebook.com/unitytustin  (Great examples of applying the Daily Word written message into our personal lives.)
Excerpts from Dr. Marj Britt in dialogue with Rev. David McArthur talking about "OPENING YOUR HEART into 100 DAYS OF PRAYER" (23 minutes): 
Questions? 
If you have any other questions related to the registration process, please email Mary Jeanne : maryjeanne@unitytustin.org.
If you have any questions about the 100 Days of Prayer process, content and sessions format, feel free to email Marj : marj@calledbyloveinstitute.com.
Looking forward to being together this Thursday at 1 pm Pacific Time
as we start the 100 Days of Prayer with Dr. Marj Britt!Much Love & Many Blessings!
Comments