OMG! THE DEEP DIVE INTO GRATITUDE => A Message ~ Invitation from Marj for our Thanksgiving CBLI Zoom on 11/24/2021 at 10 am PT
From

10:00 am

to 11:30 am
---
2021-11-24 10:00
2021-11-24 11:30
America/Los_Angeles
OMG! THE DEEP DIVE INTO GRATITUDE => A Message ~ Invitation from Marj for our Thanksgiving CBLI Zoom on 11/24/2021 at 10 am PT
OMG! THE DEEP DIVE INTO GRATITUDE => A Message ~ Invitation from Marj for our Thanksgiving CBLI Zoom on 11/24/2021 at 10 am Pacific Time Our next Worldwide CBLI ZOOM Gathering will take place on Wed. 10/20/2021 at 10 am PDT. Join us from anywhere in the world from the comfort of your home. We will send the invitation with the link prior to the ZOOM gathering to all registered for our Called by Love Institute and Living, Loving, Legacy emails. To receive it, sign up at https://calledbyloveinstitute.com/sign-up OMG!  THE DEEP DIVE INTO GRATITUDE A Message from Marj:  Surprise!  It has happened so many times in my life, all of a sudden, a shift into a Vastness that I had never articulated, no words for it, yet in a body-felt way, was experiencing it anyway. It happened when I was listening to Michael Meade who calls himself a story teller, I call him storyteller extraordinaire.  He was telling a Mayan Creation Story.  Creation is my passion, I was loving this version of the story from Peru.  I had even taught part of it without realizing it. I had 'signed up' because it felt like a Thanksgiving call would be a wonderful thing.  And, because I love what Michael Meade does integrating song and story.  He is a deeply honored wise elder. In the final part, Michael Meade did the deep dive, the 'great reveal', there is a 3rd level of the deepest dive in the integration and experience of Gratitude. Gratitude is Wholeness.  When we feel split, we are missing the 2nd and 3rd level of Gratitude. This is the Connection to Consciousness.  Without these, Soul is missing, we become polarized, along with the world. My heart leap with Joy when I heard him say, "When Love comes in, we begin to love everything."  This gave me another level of passion and commitment, even though I've said it many times.  Love is one of the things needed to change the world.  We need to learn how to listen & to love again. I am so looking forward to our applying it to our own lives on our November Thanksgiving Called By Love Institute Zoom this upcoming Wednesday (link sent by email to those who are signed up to receive our emails: https://calledbyloveinstitute.com/sign-up)  Deep Love and Gratitude, Marj While there is no charge to join us on our monthly gatherings, Called By Love Institute welcomes Tax Deductible Donations  to help cover the costs related to Called By Love Institute! Your CHECKS made to Called by Love Institute can be sent to: Called By Love Institute c/o Fabienne Meuleman 13681 Newport Ave. Ste 8 – #863 Tustin, CA, 92780 You are also welcome to DONATE BY PAYPAL/CREDIT CARD:  Using the button below: THANK YOU DEARLY! Comments
fabienne@calledbyloveinstitute.com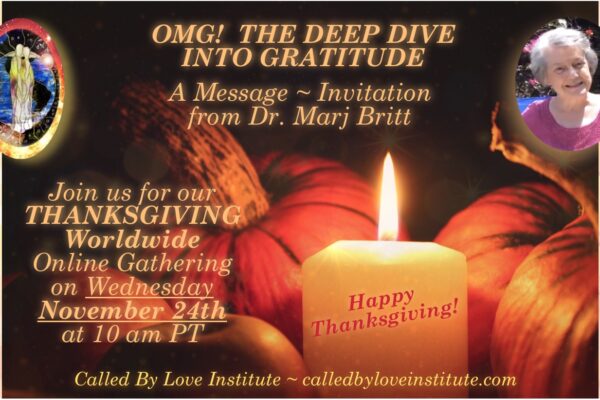 OMG! THE DEEP DIVE INTO GRATITUDE =>
A Message ~ Invitation from Marj for our Thanksgiving CBLI Zoom on 11/24/2021 at 10 am Pacific Time
Our next Worldwide CBLI ZOOM Gathering will take place on Wed. 10/20/2021 at 10 am PDT.
Join us from anywhere in the world from the comfort of your home.
We will send the invitation with the link prior to the ZOOM gathering to all registered for our Called by Love Institute and Living, Loving, Legacy emails. To receive it, sign up at https://calledbyloveinstitute.com/sign-up
OMG!  THE DEEP DIVE INTO GRATITUDE
A Message from Marj: 
Surprise!  It has happened so many times in my life, all of a sudden, 
a shift into a Vastness
 that I had never articulated, no words for it, yet in a body-felt way, was experiencing it anyway.
It happened when I was listening to Michael Meade who calls himself a story teller, I call him storyteller extraordinaire.  He was telling a Mayan Creation Story.  Creation is my passion, I was loving this version of the story from Peru.  I had even taught part of it without realizing it.
I had 'signed up' because it felt like a Thanksgiving call would be a wonderful thing.  And, because I love what Michael Meade does integrating song and story.  He is a deeply honored wise elder.
In the final part, Michael Meade did the deep dive, the 'great reveal', there is a 3rd level of the deepest dive in the integration and experience of Gratitude.
Gratitude is Wholeness.  When we feel split, we are missing the 2nd and 3rd level of Gratitude. This is the Connection to Consciousness.  Without these, Soul is missing, we become polarized, along with the world.
My heart leap with Joy when I heard him say, "When Love comes in, we begin to love everything."  This gave me another level of passion and commitment, even though I've said it many times.  Love is one of the things needed to change the world.  We need to learn how to listen & to love again.
I am so looking forward to our applying it to our own lives on our November Thanksgiving Called By Love Institute Zoom this upcoming Wednesday (link sent by email to those who are signed up to receive our emails: https://calledbyloveinstitute.com/sign-up) 
Deep Love and Gratitude,
Marj
---
While there is no charge to join us on our monthly gatherings,
Called By Love Institute welcomes 
Tax Deductible Donations 
to help cover the costs related to Called By Love Institute!
Your CHECKS made to Called by Love Institute can be sent to:
Called By Love Institute
c/o Fabienne Meuleman
13681 Newport Ave.
Ste 8 – #863
Tustin, CA, 92780
You are also welcome to
DONATE BY PAYPAL/CREDIT CARD: 
Using the button below:

THANK YOU DEARLY!
Comments