MANIFESTING FROM DIVINE MIND: THE MAGIC AND MIRACLES OF THE POWER OF DIVINE IMAGINATION => Join the CBLI Zoom Gathering on Wednesday 10/20/2021 at 10 am PDT
From

10:00 am

to 11:30 am
---
2021-10-20 10:00
2021-10-20 11:30
America/Los_Angeles
MANIFESTING FROM DIVINE MIND: THE MAGIC AND MIRACLES OF THE POWER OF DIVINE IMAGINATION => Join the CBLI Zoom Gathering on Wednesday 10/20/2021 at 10 am PDT
MANIFESTING FROM DIVINE MIND: THE MAGIC AND MIRACLES OF THE POWER OF DIVINE IMAGINATION Our next Worldwide CBLI ZOOM Gathering will take place on Wed. 10/20/2021 at 10 am PDT. Join us from anywhere in the world from the comfort of your home. We will send the invitation with the link prior to the ZOOM gathering to all registered for our Called by Love Institute and Living, Loving, Legacy emails. To receive it, sign up at https://calledbyloveinstitute.com/sign-up The details will be sent by email to all on our email list (see above). In addition, you are welcome to RSVP and share on Facebook: https://www.facebook.com/events/893435198233650 Blessings & Love! Comments
fabienne@calledbyloveinstitute.com
MANIFESTING FROM DIVINE MIND:
THE MAGIC AND MIRACLES OF THE POWER OF DIVINE IMAGINATION
Our next Worldwide CBLI ZOOM Gathering will take place on Wed. 10/20/2021 at 10 am PDT.
Join us from anywhere in the world from the comfort of your home.
We will send the invitation with the link prior to the ZOOM gathering to all registered for our Called by Love Institute and Living, Loving, Legacy emails. To receive it, sign up at https://calledbyloveinstitute.com/sign-up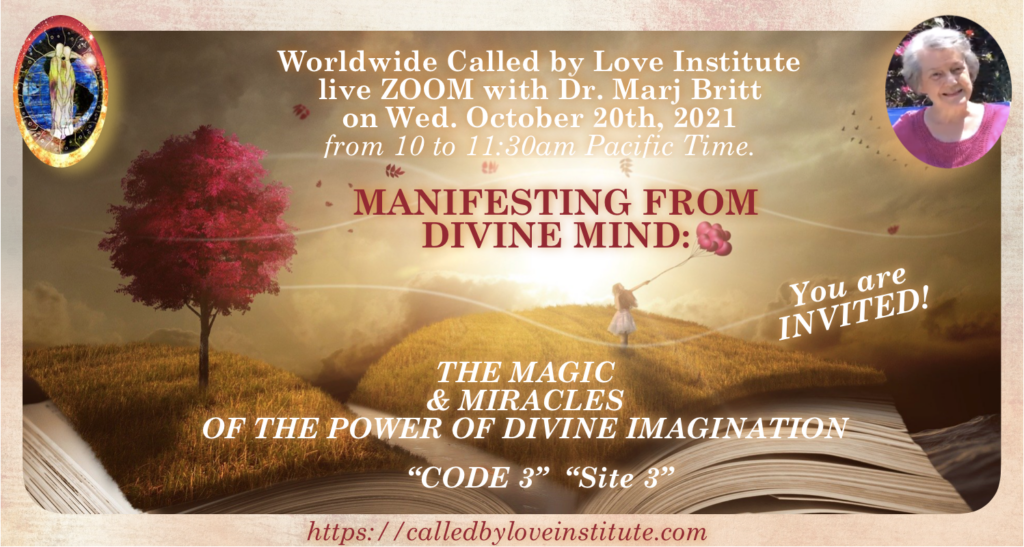 The details will be sent by email to all on our email list (see above).
In addition, you are welcome to RSVP and share on Facebook:
https://www.facebook.com/events/893435198233650
Blessings & Love!
Comments