What is your answer to this question?
Why do you Heart Called by Love Institute?
This is not our usual weekly blog from Marj…
Obviously…
Instead… with Fabienne's voice, we are calling you to help us share our message of Love by sharing the short video below, as well as answering (if you wish) in your own words: Why do you Heart Called by Love Institute?
Fabienne's answer in 15 seconds is on this short video below posted on facebook. Click on the image to open it, then by "liking/loving" it and sharing it on facebook you are helping us to possibly win an extra prize ($500/$1000) on iHeartOC Giving Day. In addition, of course, in raising awareness about Called by Love Institute.  The contest for the video is open from now until April 28th at the closing of iHeart OC.
Click on image below to watch the 15 seconds on facebook:
Please LIKE and SHARE it… and add your own comments:
"I Heart Called by Love Institute because… "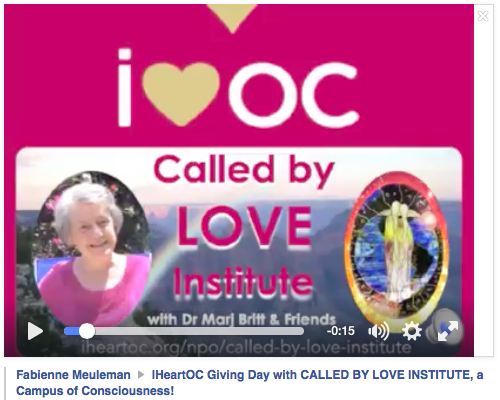 Yes, CALLED BY LOVE INSTITUTE – A Campus of Consciousness is participating in iHeartOC 2nd annual Giving Day on Wednesday, April 27 & Thursday, April 28, 2016 (until noon) organized by the Orange County Community Foundation!
There are many awards/gifts opportunities and many ways you can help. Sharing and liking the video above is one of them.
Also, make sure to mark your calendars for the special Welcome to Called by Love Instate Call we added on Wednesday April April 27th, at 10 am, make sure to be signed up to receive our emails to receive the reminder and intructions before the call. It is also posted on facebook as an opportunity for you to share: https://www.facebook.com/events/1127802213907994
And…
Last but not least…
We are happy to share the recording of the Special iHeartOC Radio Show featuring Dr. Marj Britt on INNER JOURNEY (Heart Centered Radio) with Greg Friedman. We are grateful Greg made the recording available for us to share. Here it is:
Click on the arrow to listen: 

From INNER JOURNEY (Heart Centered Radio) with Greg Friedman
gregfriedman.com  ~  kx935.com/shows/inner-journey
Full show replay available here
Can you believe Marj has gifted us already with 32 original blog posts (incl audios) since September 2015 when we launched this new website? Wow. How precious we have this library available 24/7.  Thank you Marj… and a little to here to wish you also on our website a very Happy Birthday from all of us, tomorrow, Friday the 15th. We love you so dearly and are so grateful for you!!!
All we offer with Called by Love Institute is on Love Offerings, so, your support during iHeartOC Giving Day, and always, means a lot to us, and help us to continue to share the blessings.  Starting at 6am Pacific time on Wed. April 27th, we will be able to give through this link: https://iheartoc.org/npo/called-by-love-institute and all the prizes and share from the Bonus Pool from the Orange County Foundation will increase the power of our donations. Save the date and link in your calendar!
Thank you all dearly.
And we love you.
[print_link]
If you missed some of the previous blogs and recordings, go to: https://calledbyloveinstitute.com/standard-blog
To sign up for the Called by Love Institute emails updates, incl. the details about our worldwide calls and events, go to: https://calledbyloveinstitute.com/sign-up
Comments